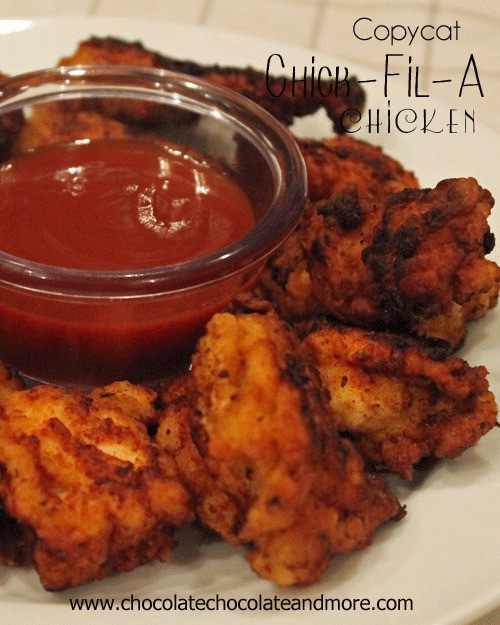 Picture compliments of Chocolate Chocolate and More
I hope everyone had a spectacular Independence Day. We've been going through a mad clean up at home so everything is everywhere. It's been the perfect time to pull out a few of my quick meals and yesterday was Taco Tuesday. The kids loved it! So, since we're going to be doing more grungy work annnnd today is copycat recipe day, I thought I'd pull out another quick recipe for those tasty Chik Fil A nuggets I just have to have (occasionally).
I don't know about you, but I love Chik Fil A. I'm so happy to share this recipe by Joan at
Chocolate Chocolate and More
. Joan has a few must follow tips if you want to get the full effect of the recipe. One main thing she recommends is to marinade your chicken nuggets for 24 hours (she does four hours) prior to cooking. This can be done the night before or, as Joan suggests, around lunch time so you can whip them up for dinner.
Now that I'm hungry for Chik Fil A, I'm heading off to get some chicken breasts. Can't beat home cooked!