What do you think of when you think of a carnival or fair? For me, it's the candy apples and cotton candy. There's so much sugar at carnivals that you can smell the sweet before you enter. The perfect combination of fried sensations like, funnel cakes and french fries, the sausages with peppers and onions, popcorn and the sticky sugary treats bring a nostalgic welcome
.
Spring sort of puts me in a mood for these things, so what better time to bring cotton candy to the world of fake food confections? I've been working on the most yummy mini cotton candies here.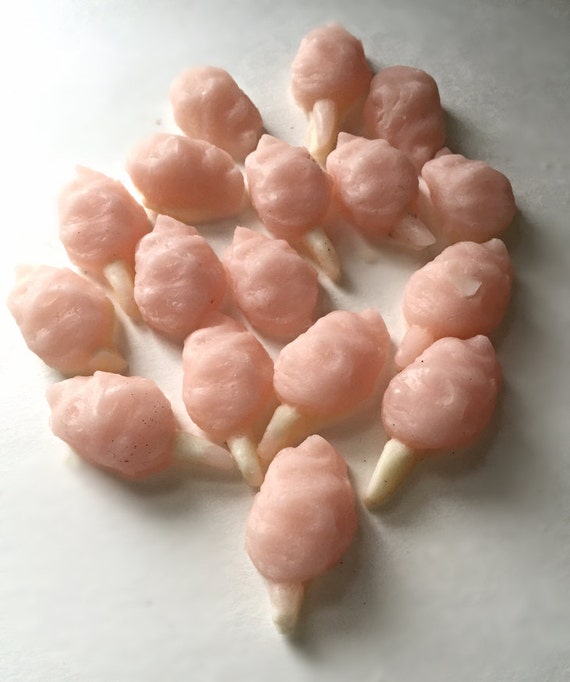 Some of them are without the little cones, but they smell so good! I think this is one of my most favorite scents for this time of year. You can see that they have the look of fluffiness that cotton candy has, but one or two in a tart warmer is going to really give that sweet, delicious cotton candy scent. You can find out more about these
here
.
If you're looking for something edible, I understand. I love the foods from the fair, so here's a nice little funnel cake recipe that you can try at home. We absolutely love funnel cake at my house, and maybe you'll love it too!
Funnel Cake
3 large eggs
2 1/4 C. milk
1/2 t. pure lemon extract
4 C. flour
1 C. light brown sugar
1 T. baking powder
1/2 t. salt
Oil for frying
Cinnamon powdered sugar for dusting
Instructions:
Preheat the oil to 375 degrees F.
In a mixing bowl, whisk the eggs, milk, and lemon. Whisk well. Sift the flour, sugar, baking
powder, and salt together. Fold the flour mixture into the egg mixture. Stir until smooth.
Hold your finger over the funnel opening, fill with 3/4 cup of the filling. Place your hand over the oil
and carefully remove your finger. Scribble and crisscross the filling into the hot oil.
Fry until golden on both sides. Remove from the oil and drain on paper towels. Dust with
cinnamon sugar mix. Repeat the process until all of the batter is used.