Kitchen themes can make it super easy to decorate your home because it gives you the ability to find accents that correspond around one concept, while still giving you the ability to create something really unique and special. Picking up pieces that match your theme is much easier than winging it because you're less likely to have that eclectic looking kitchen with a bit of everything in it. So, the question is, how do you begin to choose a kitchen theme? Where do you get started when selecting a theme that will convey your personality and charm in your kitchen decor? In a previous post, I gave a few ideas on themes that will give you a new found love for your kitchen. Today, I want to share with you my top ten favorite decorating helps. Many of these helps have inspired my fake food decor pieces (particularly the breads). So, here are my top ten picks.

*Side Note. This list expresses my personal preferences, and the information provided reflects my personal favs. However, there are a few links within this post that will fall into the category of affiliate links, meaning, I will get some sense of credit if you use them. So...thank you so much (in advance) for your help.

1. Kitchen Decorating Ideas - Google Apps
Not only does this show painting
ideas
, it also gives ideas for decorative placement and helpful articles. The app can be used for the smallest domicile to your dream home. Articles are inspiring and will give you a head start when you're choosing to go with a theme, also providing tips on spacing and color pallets. You can download the app
here
.
2. Good Housekeeping
My all time
go
to for decorating ideas, Good Housekeeping Magazine is always filled with organizing tips, space saving techniques and tons of ideas on how to achieve various looks. Get suggestions on use of space that you don't know how to use and bring a touch of vintage to your kitchen using your grandmother's pieces that you can't quite figure out how to fit into your scheme without it looking "tacky." You can find interesting and helpful home decorating topics by visiting the
Good Housekeeping site.
3. Target Home
Why do I like Target for home pieces? Well, they have a variety of household pieces that can be used in almost any theme. While you'll mostly find more modern decor inspiration at Target, there are great pieces that we vintage lovers can also use. For example, check out this Threshold 16 piece Wellsbridge Dinnerware Set (below left). I love this because it's simple, yet antiquish. The faucet (center) is very charming, and would look stunning alongside a stainless steel sink. The canisters (right) are probably my favorite because they're another simple way to add vintage style to any kitchen. For my kitchen, I need things to be simple, requiring no structural changes.
Target has a sale going on right now where you get 10% off of purchases in their home department with the code SUMMER. If you order over $100, they bump that up to 15%.
Shop Target
to find other cool home pieces. Also, by using Ebates when you shop, you can get additional savings through cash back on your purchase. Ebates is a rebate center that gives you cash back for shopping at stores you'd regularly shop. If you use my link
here
, we'll both get credit! :) First time with Ebates? You'll get a $5 gift card for making your first Ebates purchase of $10 or more.
4. HouseBeautiful Magazine
For a cultural twist on your home decor, this Euro magazine has decorative inspiration that takes decor (inside and out) to a new level. Since this is a magazine, you'll get many articles relating to home (which I love), but you'll also get to see some of the most lovely European home and decor styles. I could not get over how this cottage looks like it has a mushroom top roof! I'm a huge fan. Check the
magazine
out for yourself.
5. Martha Stewart
There's a reason she's called the queen of crafting. Martha Stewart is the perfect place to go to for inspiration, particularly if you're a DIYer. You'll find so many outstanding ideas for things that you can do yourself to give your home the unique 'you' look that your friends won't have. Don't be surprised if you're asked to make a few things for others. Marth Steward DIYs may just hook you! You can see for yourself. Browse her site for home decor DIYs for any season or occasion
here
.
6. Stone Gable Blog
I love vintage farmhouse decor and the cottage chic look. Yvonne does a fabulous job giving so many visuals and tips on her blog. Her blog is in my favorite home decor pics because it's well rounded, showing you how to organize, decorate, refresh, create, and DIY. She also has recipes! You can visit
Yvonne's blog
to get a ton of wonderful ideas for decorating your home.
7. Williams Sonoma
Okay, I love Williams Sonoma. They have the best kitchen gadgets, and I'm gadget woman! Stainless steel is one of my most favorite to use in the kitchen. Alongside my iron skillet selection, I have
stainless steel
in everything from measuring spoons and cups (my personal must have because of the sturdiness) to pots and pans. It's just one of my 'things,' I guess. There's always something that I can find at Williams Sonoma, and right now, they're having a summer clearance sale that will give you an additional 25% off of their summer clearance items (of which this beautiful All Clad pan, centered below, is a part of). You can use code EXTRA25 to save.
Also be
sure to take a look at their top rated cooking tools
here
.
8. Zillow Digs
This place has really luxurious style. While it's not the most economical of my picks, it is great for inspiring ideas. I won't really get much into the details of cost because I honestly don't look at the site for purchasing things for my kitchen. I think it serves as a great inspiration for what color choices and appliances you can use in your kitchen to achieve different looks. You can find their kitchen designs
online
.
9.The Inspired Room
One of my favorite home
decor inspirational
blogs is Melissa's 'The Inspired Room.' Melissa shares her great sense of style in a very conversational tone. She walks you through how to decorate and gives tips on cleaning and organizing that make you actually
want
to clean and organize. She also includes a few other rooms that I haven't seen much on home decor blogs, such as ideas for decorating your nursery. You can
take a look
at Melissa's blog and check out and even check out how she decorates her own home.
10. JC Penny
It's my all time standby for home decor, JC Penny. I decorated my living room
in
an antique look with Victorian style chairs (similar to the ones shown below) that I purchased at JC Penny online. They were $300 per chair and had been knocked down to $75! That included the delivery to my house. I'm always browsing
online
to see what deals they have, and I always use my shopping rebates discounts to get the maximum deal.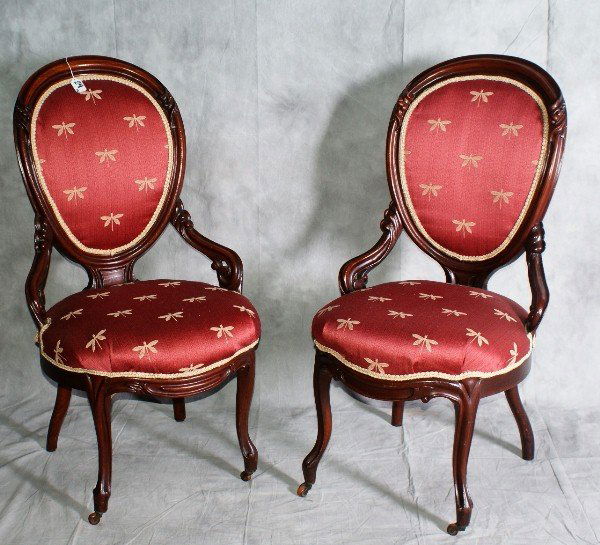 Victorian chairs similar to mine. These were found at
Live Auctioneers
With these decor helps, you're sure to keep the inspiration pouring in.